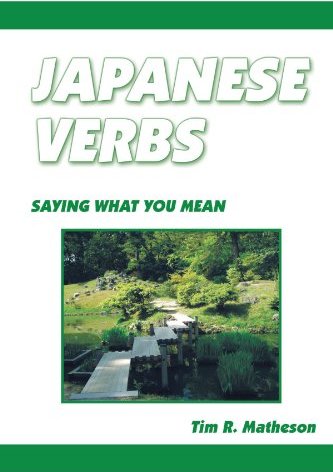 This book helped me a lot in my Japanese studies! Simple explanation, good examples, and wonderful teacher!
First I knew about Tim-sensei (the book's author) was when I was looking for a website which teaches you about Japanese verbs. His site came first on the google search list. The website was very simple and I find it really useful; many notes to take, many lessons to learn from, and many other things.
Because I didn't have a printer back then, I use to take 2 hours of my time a day, and sit next to the laptop with a notebook and my pencil case.
I will copy each lesson with a determined heart. Until one day I ended up buying the book from the Amazon!
The b
ook is also well organized and very tidy. There are 80 total lessons of Japanese verbs, and some extra lessons at the back of the book. Each lesson begins with an explanation, then it will give you the examples, and then at the end of the lesson there'll be a word list of Japanese words (that has been mentioned in the explanations and examples) and it English translations. Also, notes will be found in the lessons (usually after the world list) itself instead of having to bother yourself to find it at the back of the book.
What I learnt from this book:-
Japanese verbs, forming sentences, a lot of Japanese vocabularies, a little of Japanese culture, etc.
I will give this book…

5 stars

!
---
·
Publisher:
Trafford Publishing; 2 Blg edition (4 Aug 2009)
·
ISBN-13:
978-1426911880
·
Product Dimensions:
22.9 x 15.2 x 1.5 cm
---